Canadian Sprinkler Related Links
Local Bylaws
The by-laws of cities/municpalties are constantly changing, we do our best to keep this updated. Should you find it out of date or have additional information to add please contact us.
Click here to download a chart of the various by-laws around the Vancouver lower mainland.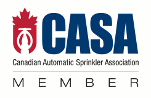 The Canadian Automatic Sprinkler Association is a National Trade Contractors Association. It has existed for over 70 years and was incorporated under a Dominion Charter in 1961. C.A.S.A. promotes, defends, enhances and improves the business of installing and manufacturing fire sprinkler devices and systems. The Association works closely with fire and building officials, architects and others "For The Advancement Of The Automatic Sprinkler Art as applied to the Conservation of Life And Property From Fire".
The Home Fire Sprinkler Coalition was formed in 1996 in response to the tremendous need to inform the public about the life saving value of home fire sprinkler protection. The HFSC has developed material with the details about automatic home fire sprinkler systems, how they work, why they provide affordable protection and answers to common myths and misconceptions and their operation.
The Canadian Fire Sprinkler Forum is an email based discussion forum for the Canadian sprinkler industry.
Suppliers & Manufactures (USA and Canada)
Afcon – Manufacture of Pipe Hangers
Reliable Automatic Sprinkler Company
Tyco Fire Products – (Star, Gem & Central)
LynCar Products Ltd Toronto, Montreal, Vancouver, Canada and Maryland, USA.
National Fire Equipment – Toronto, Windsor, Ottawa, Edmonton, Calgary, Vancouver
Residential Sprinkler Companies and Related Web Sites.
Urban Fire Protection – A top notch residential sprinkler company located in Mesquite, Texas
Fire Protection Contractor Magazine – Industry magazine
Halifax Regional Municipality – excellent source of information on fire sprinklers
Canadian Association of Fire Chiefs
Fire Chiefs Association of British Columbia
Myths & Facts About Automatic Home Fire Sprinklers City of Toronto, Ontario, Canada
Canada Safety Council – Saving Money or Saving Lives
User Friendly Homes Vancouver, B.C.
Lifestyle Retirement Communities – "A fully sprinklered community", Coquitlam, BC.
The Family Survival Series By David J. Smith.
ICBA – Independent Contractors & Business Association
U.S.A. and International Related Web Sites
The National Fire Protection Association. The mission of the international nonprofit NFPA is to reduce the worldwide burden of fire and other hazards on the quality of life by providing and advocating scientifically based consensus codes and standards, research, training and education.
Publisher of the National Electrical Code?, Life Safety Code®, and 300 other codes and standards through a full, open-consensus process, NFPA is currently developing the first consensus-based building code.
This Web site provides resources for the fire service and other sprinkler advocates who want to demonstrate the need for home fire sprinklers in their community. Tools and field resources available here help advocates talk with local elected officials and others about the life-saving impact of sprinklers. In addition, the site contains information to help home fire sprinkler advocates navigate the legislative process to get sprinkler ordinances introduced and passed in their communities and allow them to come together to share their ideas, successes, and tools with other advocates across the country. The Fire Sprinkler Initiative, in cooperation with many other interested individuals and organizations, encourages the use of home fire sprinklers through increased awareness and adoption of local ordinances or model codes.
American Fire Sprinkler Association is a trade organization which represents the interests of the American fire sprinkler contractors and suppliers.
National Fire Sprinkler Association is a trade organization which represents the interests of the American fire sprinkler contractors and suppliers.
Residential Fire Sprinklers for Life Safety Report
NFSA Helps Water Purveyors Prepare their Jurisdictions for Sprinklers in Homes – Click HERE to download this Guide
The Residential Fire Safety Institute is a public interest group. It was created in 1982 to promote fire-safe homes through built-in fire protection and fire safety education. The U. S. has one of the worst records for residential fire deaths in the industrialized world. Residential fires account for 80 percent of all fire deaths. Our mission is to improve that dubious record. Originally known as Operation Life Safety, our name changed to the Residential Fire Safety Institute in June, 1999.