About Fire Busters Inc
Our Mission
At Fire Busters Inc, we are absolutely committed to providing contractors and home owners with superior service, competitive pricing, quality work, and a knowledgeable staff. We stay true to our mission statement by providing top quality sprinkler system design, inspections, and installations, while adhering to the highest standards of safety and practice. We are here to answer any questions and concerns you have during your Vancouver, Burnaby, Surrey, Delta, North Delta, Maple Ridge and Langley sprinkler system service.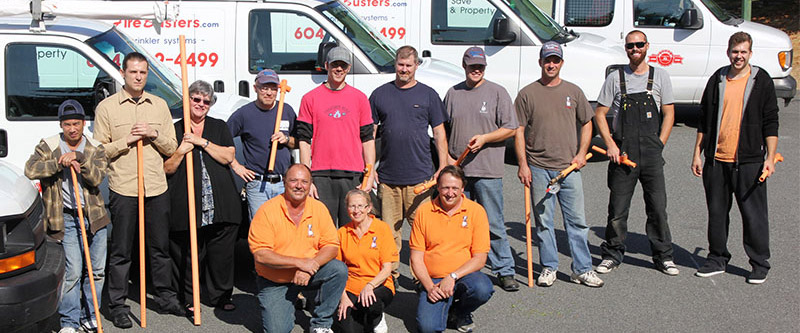 Our History
Fire Busters Inc. is a fire sprinkler design and installation company located in Delta, British Columbia, Canada. It was started in 1990 by David, Joanne and Tim Killey and specialized in, (but was not restricted to) the residential fire sprinkler field. Fire Busters Inc. quickly became the foremost installer of residential fire sprinklers in Western Canada.
Some systems installed by Fire Busters have proven to be quite remarkable. One home for example, was in excess of 30,000 sq. ft. and numerous others have exceeded 15,000 sq. ft. Given southwestern BC's mountainous and oceanic settings, Fire Busters Inc. has had to be innovative with several unique installations and facilitate water supplies in many inhospitable conditions such as mountain roads, mountain creeks, rivers, lakes and the Pacific Ocean tides. Installations have taken place with the help of row boats, chair lifts, 4×4's and float planes.
All of this has combined to strengthen Fire Busters Inc. in our experience and make us truly one of the fore-runners in the residential fire sprinkler field. We specialize in providing Vancouver, Burnaby, Surrey, Delta and Langley sprinkler systems.
Why Choose Fire Busters?
6 out of the top 10 most expensive homes in BC were sprinklered by Fire Busters Inc.
Choosing a good reputable sprinkler contractor can make your life a whole lot easier. Fire Busters Inc. strives to provide top notch customer service, who will show up on time and complete our work as promised to our Vancouver, Burnaby, Surrey, White Rock, West Vancouver, Delta and Langley customers. The general contractor often has to juggle dozens of sub contractors; knowing this, we have streamlined the process as much as possible. Fire Busters Inc. has an excellent working relationship with other sub trades and local inspectors.